rupowski/Kropowski is a Polish surname. The meaning and origin are uncertain. Most Polish surnames have been found to fall into one of two categories: those derived from place names, and those derived from occupations. It is generally accepted that the Polish suffix –owski usually refers to a connection with a place name. Several towns within 30 miles of Tokarziski (in present-day Belarus, where it is believed our family originated) bear a resemblance to the first part of the family name, including Krupa, Krupovo, Krupli, and Kuproviche. So the surname may mean something like "a person from Krupovo." The Polish word "kupice," meaning merchant, salesman, or shop-keeper, and "Krupa," meaning cereal, grain, or groats, both show a similarity to Krupowski, so it is also possible that the family name is related to the occupation of an early ancestor, such as a merchant or grain dealer.
American members of our family have traditionally spelled their name either Krupowski or Kropowski. As with nearly all surnames, spelling variations exist both in documents and as an individual's personal preference. Examples here include Krupowski, Kropowski, Kruponsky, Kripowski, Krupowska, Krupowsk, Kroposiski, Kuyouski, Prekopska, Prokopska, and Poprowski. In some cases, even siblings spell their surnames differently. In this family history, the individual's preferred spelling is used when the preference is known. The same is done here with given names. One spelling is consistently used for all mentions of an individual, except that names listed in source citations use the spelling shown in the cited reference.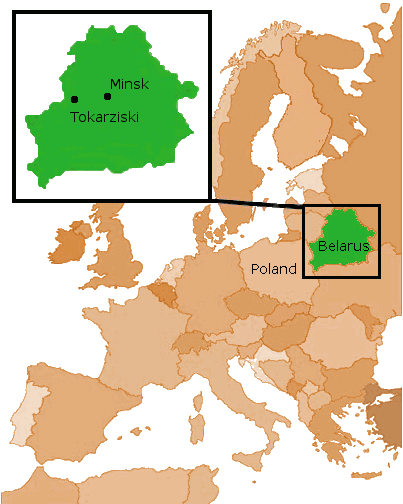 Records for various family members list their place of origin as Tokarziski, Russia (with several spelling variations). Tokarziski is a small town in Oszmiana Wilna (province) in present-day Belarus, about 60 miles west of the capital city of Minsk. In the second half of the 18th century this region was near the center of the Kingdom of Poland. By 1795 the entire territory was divided into Prussia, Austria, and Russia in what are known as the Partitions of Poland. A new and much smaller Kingdom of Poland was established in 1815 with the fall of Napoleon, and the borders remained stable up to the First World War. During that period, Tokarziski was within the borders of Russia. All of the immigrant members of our Krupowski/Kropowski family, and their spouses, immigrated between 1904 and 1914 during the turbulent period leading up to the First World War. Their country of origin shows mostly as Russia in passenger lists, census records, and other documents, consistent with the boundaries of the period. After World War I, an independent Republic of Poland was restored, with Tokarziski located slightly within the Polish side of the Russian/Polish border. Poland was again divided during the Second World War, with Nazi Germany and Russia each taking a part. After World War II the boundaries were once again redefined, and they have remained essentially unchanged to present day, leaving Tokarziski in Belarus. Through all the political and social turmoil of several centuries, the people of the region that includes Tokarziski have staunchly retained their ethnically Polish roots.
Krupowski and Kropowski are relatively rare surnames in the United States today. A check of several free online telephone directories shows only a few individuals with surname Krupowski, and none with the Kropowski spelling. Other online people-search databases of living individuals, such as peoplefinders.com and veromi.net, show several more individuals with either surname, but it appears that there are fewer than two dozen individuals today with either surname who are known descendants of the immigrants in this family history. There are people with similar surnames, such as Kroposki, who are found in slightly higher numbers in present-day U.S. records. Correspondence with a few of these individuals suggests geographic origins in the same general region (present-day Belarus or nearby Lithuania), but a direct connection between families has not been found.
One such Kroposki family believes they may be related to the ancestors of Nadezhda Krupskaia, the wife of Vladymir Lenin. She and her parents were from Petrokuz, Russia, well north of Belarus. Significant research would be needed to establish or disprove a connection between the American Krupowski/Kroposki families and Nadezhda's Krupskaia family. Historians agree that Lenin and his wife had no children, so any connection to their family would have to be through Nedezhda's ancestors.
An internet search of the name Krupowski yields numerous web pages about Krupowski Street, the pedestrian mall and main street in present-day Zakopane, Poland. Zakopane, a popular tourist destination, is over 400 miles from Tokarziski, Belarus, so it is doubtful that the street is associated with the early history of this Krupowski/Kropowski family. Lesser known is Krupowska/Krupowski Street in Lida, Belarus, which was the site of a massacre of Jews on 8 May 1942.1 Although Lida is much closer to Tokarziski, no connection between Krupowska Street has been found with our family.
Our early presumption, based on family tradition, was that the first four of our Krupowski immigrants (Antoinette, Kostak, Stanislaw, and Alexander) were siblings, although no one in the family was able to provide any evidence of this (the fifth immigrant, Magdalena, was previously unknown to the contemporary Connecticut Krupowskis). Instead, the documents cited strongly suggest that these immigrants were the children of three different families. Specifically, Kostak, Stanislaw, and Magdalena were apparently the children in one family, headed by Josef/Osip Krupowski and his wife Antonina (whose last name is unknown); Alexander was a child in a second family, headed by Sylvester Kropowski and his wife Marcella Stankewicz. Antoinette (whose surname appears as Krupowski in various records) was a child of a third family headed by Jacob Prekopska and his wife Francices Czceh.
Antoinette was the first to immigrate to the United States, on 25 November 1904 on the Graf Waldersee, along with her future husband, listed as Stanislaw Skubisz (later Americanized to Stanley Scovish). They are listed as a married couple along with their first two children Helena (Helen) and Francsek (Frank) on return to the United States on 28 September 1907 on the S.S. Kaiserin Auguste Victoria after a trip to Babice, Austria, Stanislaw's place of birth. The immigration record indicates that they were previously in the United States from 1901 to 1907, although no record earlier than the 1904 immigration record has been found. The 1907 immigration record also shows that daughter Helen was "U.S. born," one year and six months old. Son Frank is listed as six weeks old and nationality as "Austria." Census records consistently show Frank as the older child and born in the United States, an interesting conflict with the immigration record. Stanley and Antoinette lived in Jersey City, New Jersey, before settling in Montville, Connecticut. Many of their Scovish descendants have been documented here, but several lines of descent require more research.
Kostak (listed as "Konstantin Kripowsky") immigrated on 14 October 1908 on the S.S. Fredrick der Grosse from Bremen (Germany). He originally went to Scranton, Pennsylvania, and eventually settled in Norwich, Connecticut, where many of his descendants still reside.
Next to immigrate was Stanley (listed as "Stanislaw Kruponsky"), arriving from Hamburg on 3 April 1909 on the S.S. Badenia. His destination was Scranton, Pennsylvania, to join his brother Kostak. Stanley moved to Schenectady, New York, and years later moved to nearby Amsterdam where he lived for a time with his sister Magdalena and her family. The oldest living members of the Connecticut Krupowski family believe that Stanley was a lifelong bachelor with no offspring.
Immigration records list "Alexander Poprowski" (i.e., Alexander Kropowski) as a passenger on the S.S. Kaiserin Auguste Victoria, arriving from Hamburg on 22 July 1912 (not 7 May 1912 that is shown in his Application for a Certificate of Arrival and Preliminary Form for a Declaration of Intent). His destination was Schenectady, New York, to join Stanislaw Krupowski. The relationship "brother" is suggested by the ditto marks above Stanislaw's name carried down from unrelated entries. However, this relationship appears to be incorrect because their respective immigration records and other records list different parents for each of them. Alexander settled in Montville, Connecticut, and nearly all of his descendants are known and documented herein.
Last to immigrate was Magdalena, arriving on 29 May 1913 on the S.S. Potsdam from Rotterdam. Her destination was Throop, Pennsylvania, a suburb of Scranton, to join her brother "Stanisl. Krupowski." Magdalena later settled in Amsterdam, New York, with her husband Victor Salton. Some of their descendants have been traced and documented.