arious biographical sketches recount Dr. Thomas Jefferson Gazley's well documented role as an early settler of the Texas territory and signer of the Texas Declaration of Independence, as well as his profession as a physician and his activity as a freemason.1 One particular source, the website The Gazley Bridge, adds interesting details about Dr. Gazley and his life in Texas and elsewhere.2
The following is a collection of other lesser known details of this American pioneer.
Birth
Some sources suggest that Dr. Gazley was born in New York State in 1801 (including his headstone in the Texas State Cemetery in Austin), while other sources indicate it was as early as 1798, this earlier date being more likely correct. Perhaps the strongest support for his birth in 1798 is his letter of application dated 16 January 1815, Newburg, New York, to attend the Military Academy at West Point. A letter of recommendation bearing the same date and place, and six signatures, recommends "Thomas J. Gazlay from Cortland County of this state, and now of this village, of the age of sixteen, as a young man of promising abilities, good moral character, and respectable connexions…"3 Alas, he apparently was not accepted to West Point, as his name does not appear in any list of attendees or graduates.
It is interesting to note that these two letters, one of which Thomas likely wrote and signed in his own hand, and the Ohio record of his marriage in 1819 to Elizabeth Boyce, all spell his last name as Gazlay, the most prominent spelling among his ancestors to that time. Virtually all subsequent records spell his last name as Gazley, which is the spelling that all of his descendants used.
Early Years in Illinois
Census records indicate that Dr. Gazley lived in St. Clair and Clinton Counties, Illinois, in the early and mid-1820s, during the early years of his medical profession.4, 5 He is almost certainly the Dr. T. J. Gazley of Lebanon, St. Clair County, Illinois, who invented an "Electerizing Machine," costing $7, which was supposed to be of use in reviving persons apparently dead from drowning. Although no other details have been found regarding the design of his machine, it was most likely based on the voltaic pile (i.e., storage battery), discovered in 1800, and in common use among doctors up to the early 1830s for treating a wide variety of ailments, albeit of questionable efficacy.6
Stephen Austin's Colonies
Stephen F. Austin, widely considered the "Father of Texas," was perhaps the most famous Texas empresario (i.e, a person who was granted the right by the Mexican government to establish settlements on Mexican land). Austin established five colonies in Texas, the first known as the "Old Three Hundred," referring to 297 grantees who purchased 307 parcels of land during 1824-25 in what is now Brazoria County, Texas. His third colony, called the "Little Colony," was established starting in the summer of 1827, and granted Austin authority for a settlement of 100 families around Bastrop County.7
Arrival in Texas
Dr. Gazley's arrival in Texas closely followed the initial settlement of the territory. An article in the Bastrop Advertiser in the 1920s included a list of 70 of the 100 families that were part of Austin's "Little Colony." Among the entries is: "Thomas J. Gazeley [sic], [age] 31, [date arrived] 1828 [from] Ohio, [occupation] physician, [notes] Eliza and two sons."8 Other sources say he arrived in 1827 and from Louisiana. He and his family may have arrived separately, which could account for the two different dates and locations.
It is said that Dr. Gazley brought the first slaves into the area.9 The 1860 Slave Census for Texas shows that Dr. Gazley's widow, Eliza Gazley, still owned 9 slaves with ages ranging from 2 to 39.10
Dr. Gazley was granted a provisional license to practice as a physician on April 13, 1830, by the Ayuntamiento of Austin (i.e., the Mexican government town council in Austin). He "presented two certificates from scientific bodies (corporaciones scientificos) in the States of the North accrediting his knowledge and skill in the practice of medicine." On July 5, 1830, it was ordered that he be admitted to the "practice of Medicine, Surgery and Midwifery within this jurisdiction."11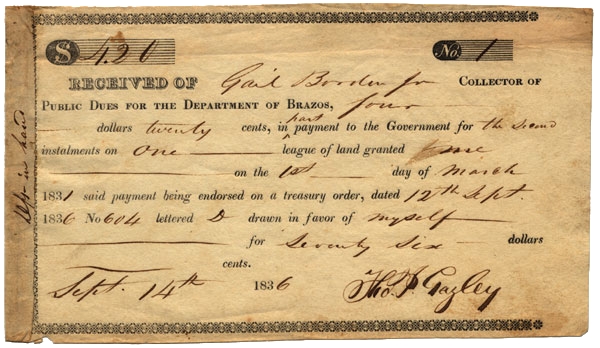 Settlers in these Texas colonies generally were granted a league of land, a Texas-Spanish land measure equaling 4,428.4 acres. Dr. Gazley was granted one league of land on 1 March 1831, listed in Texas land title abstracts as Patent# 194 in Bastrop County. It is described as Block 11, Section 11, Abstract 33, and is sometimes referred to as the Gazley Survey.12, 13 A surviving receipt for part payment of this land is shown at left.14
The village of Old Smithville, Bastrop County, Texas, was established on 640 acres of land that was originally granted to Dr. Gazley and also to a man named Lewis Lomas. As one of the earliest settlers, Dr. Gazley established and operated a store, the first in the area, which formed the center of Smithville's business life.15, 16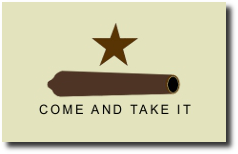 Come and Take It
Dr. Gazley was a surgeon in Captain Michael R. Goheen's company in the Battle of Gonzales, 2 Oct 1835. The battle was later known as "Come and Take It" and is considered the start of the Texas Revolution. On the day before, Dr. Gazley was one of seven physicians in the army who formed themselves into a medical board. Rev. Dr. William P. Smith was elected president, and Dr. Thomas J. Gazeley [sic] was elected Secretary.17, 18
Texas Declaration of Independence — Republic of Texas Flag Committee — End of the Texas Revolution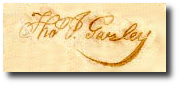 Thomas J. Gazley was one of the three representatives from the Town of Mina (located within Austin's Little Colony, and later renamed Bastrop) when he signed the Texas Declaration of Independence, which was adopted on 2 March 1836 and formally signed the following day. It was on March 3rd that Dr. Gazlay made a motion to form a committee to create a flag for the newly formed Republic of Texas. Dr. Gazley was appointed to the committee, along with William B. Scates, Lorenzo D. Zavala, Sterling C. Robinson, Thomas Barnett, and President Richard Ellis. The flag designed by Lorenzo D. Zavala was accepted by the committee on March 11th, although no description exists for the original Zavala flag. The next day, William Scates proposed the addition of several details to the flag, with only scant details recorded, and this amended flag was also accepted by the committee. However, historians believe that neither the original Zavala flag nor the Scates amended flag were ever actually made. So instead of Dr. Gazley playing a central role in the creation of the first flag of the Republic of Texas, his name is simply associated with an historical near-miss.19
Dr. Gazley was one of nine signers of the Texas Declaration of Independence who also fought in the Battle of San Jacinto on 21 April 1836, the decisive battle of the Texas Revolution. He was a private in Company C, First Regiment of Texas Volunteers.20
Law and Politics
Dr. Gazley formed a law partnership in Harrisburg (later renamed Houston) with John Birdsall, who had arrived in Texas around 1837 from New York. A notice announcing the partnership reads:21
"Law Notice. Thomas J. Gazley and John Birdsall have formed a co-partnership in the practice of Law in this city. They propose to connect with their professional business a Land Agency, for the purchase, location, and sale of land, and the investigation of titles, for persons in the United States and elsewhere. Houston, May 2nd, 1837."
In September of the same year, Dr. Gazley was elected to the second House of Representatives of Texas, representing Harrisburg (later renamed Houston).22
Return to Bastrop County — Death of a Pioneer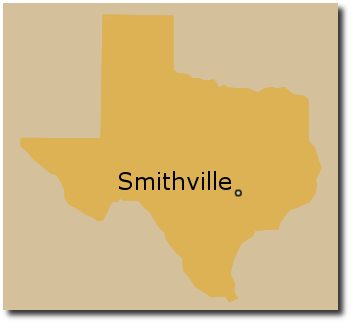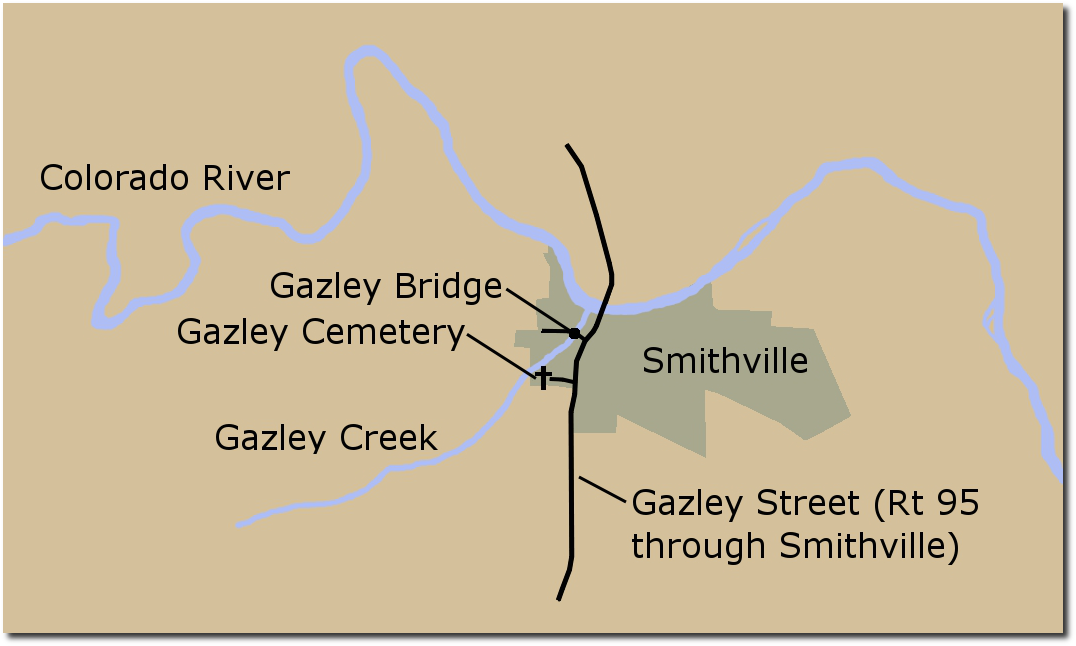 Dr. Gazley, his wife, and their four children, moved back to Bastrop County, probably after his term as Representative from Harrisburg. They were still living in Bastrop County at the time of the 1850 census.23
In 1852, the site of the Bastrop County Courthouse in Bastrop, Texas, block 7 east of Main Street, was purchased for $700 from Thomas J. Gazley. A wooden courthouse was built by Mr. Fitzgerald on the present site.24
Dr. Gazley was truly one of the early Texas pioneers. He fought in the initial and final battles of the Texas revolution, lived to see Texas achieve statehood on 29 Dec 1845 and to see Texas have her borders set to their present-day boundaries by the Compromise of 1850. He died on 31 October 1853 and was buried initially in the Gazley Cemetery in Smithville. In 1936-37 his body was exhumed and re-interred in the Texas State Cemetery, Austin.25
Several landmarks in and around Smithville, Texas, are vestiges of Dr. Gazley's prominence among the first settlers in the area. These include Gazley Creek, Gazley Bridge (on 4th Avenue crossing Gazley Creek), Gazley Street (Rt. 95 in Smithville), and Gazley Cemetery (at the end of North Avenue).
Postscript: Drawing of Dr. Thomas Jefferson Gazley
A drawing of a bearded Dr. Thomas Jefferson Gazley is displayed in the Star of the Republic Museum, Washington-on-the-Brazos, Texas, and at the museum's website. The same likeness of Dr. Gazley, in mirror image, is also included in the museum's centerpiece mural, "Reading of the Texas Declaration of Independence," painted by Charles and Fanny Normann in 1936. An inquiry to the museum in the late 1980s confirmed that this drawing of Dr. Gazley was created from a description of him based only on family tradition; no actual images of Dr. Gazley exist.